Sands Townhouses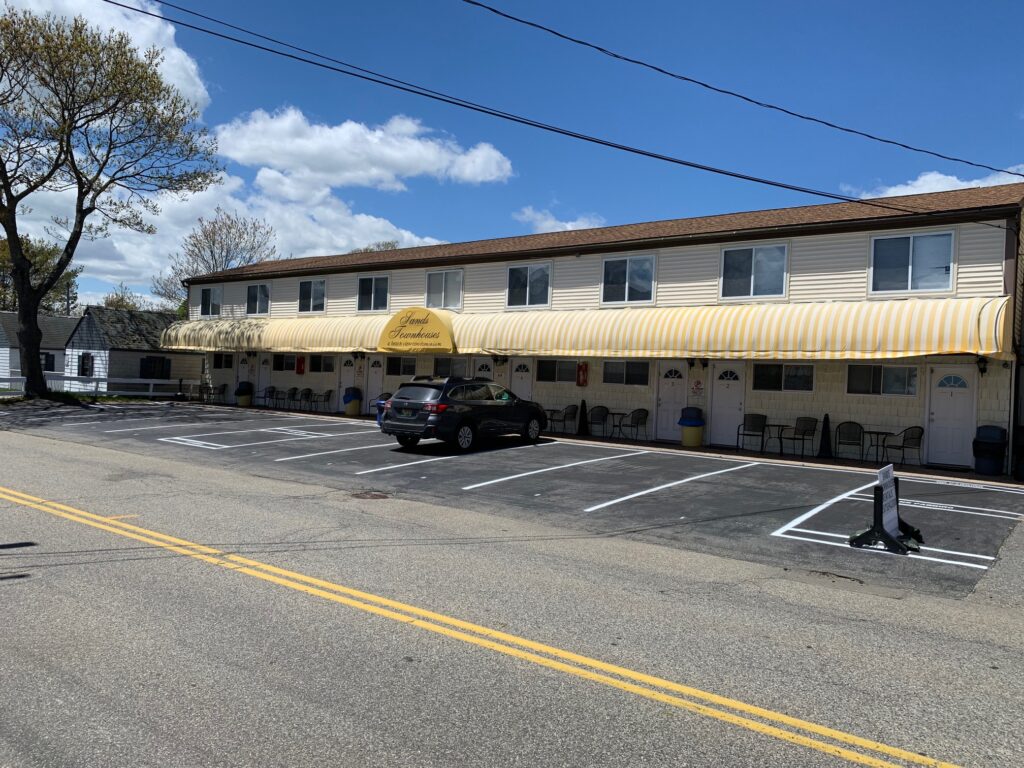 64 W. Grand Ave
Old Orchard Beach, ME 04064
These two story townhouses are located directly across the street from the beach. Each unit is equipped with a full kitchen, including oven, microwave, coffee maker, toaster and place settings for 6 persons. Each unit has two bedrooms located on the second floor, with either a queen or full sized bed. There are televisions in the master bedroom and living room. Each bathroom is equipped with a shower only, no bath tubs. Other in room amenities include; air conditioning, phones , TVs with DVD players and hair dryers.
The Sands is adjacent to the Amtrak passenger line which stops seasonally in Old Orchard Beach. Property Parking is limited to one vehicle per unit. These townhouses are the ideal family getaway, where you are able to enjoy the comforts of home, while at the beach!
Reservations
You can also make reservations by phone or email.
Phone: 207-934-2200 TOLL FREE: (866) 934-2202
Email: islandviewmotelmaine@gmail.com
Full payment is due 14 days prior to check in. We do not refund for early departures under any circumstances. All rooms are non-smoking. Smoking of any smoking material and a cleaning fee of $250 will be charged if you smoke in the room. Minimum check-in age is 25. Sorry, we love pets as much as you do but we do not allow pets. Room rates are based upon 4 persons in the room. Extra person charge is $25 per night, max occupancy is 6 persons. Check in time is 3:00 PM and Check out time is 10:00 AM. If rooms are damaged or left extremely dirty during a stay, guests will be charged the amount it costs to replace damaged item + 50/hr. labor fees to return room to its original state. This includes missing/damaged remotes, bedding, towels, windows, TVs, window screens, appliances, fixtures, furniture, doors, lights, mirrors, etc. A $25 lost key charge will be assessed to the credit card on file if the room key isn't returned at check-out.Thanks for your acceptance and understanding.
Payment Policy
Bookings require a 50% reservation deposit, which is taken upon booking. Final payment is due 14 days prior to arrival.
Cancellation Policy
A $150.00 CANCELLATION FEE will be charged after reservation has been created, up until 30 days prior to arrival date. Within 30 days of arrival, a CANCELLATION FEE of 50% of the total reservation will be charged. Within 14 days of arrival, a CANCELLATION FEE of 75% of the total reservation will be charged. Within 7 Days of arrival, a CANCELLATION FEE of 100% of total reservation will be charged.
No-Shows apply to any or all guests who have a reservation at the Island View Motel, who do not appear on the reservation date of arrival, and who do not provide a proper cancellation notification. No-Shows will be charged for the entirety of their stay.
Disclaimer
Reservations booked through our 3rd party sites, follow the DEPOSIT and CANCELLATION requirements as specified by the respective sites. Please review your booking information on the site for details on your deposit and cancellation policies.
IMPORTANT: Please read and agree to all policies listed above before reserving your room.
Old Orchard Beach Condominiums